Selling Medals, Shirts and trophies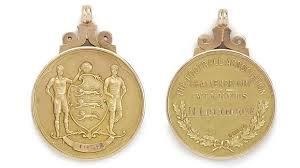 In recent years many Ex Players have realized the value of memorabilia and personally won items they have amassed over their career in football.
Players including many household names have profited greatly by choosing to sell.
We have to remember that footballers have not always commanded £30.000 per week plus. In many cases even great players of the 50s and 60s were on not much more than a very good average wage, definitely not enough to retire on after their footballing career was over. This also applies to many lower league players from the 1980s to present day.
If you are in the above category and are considering selling some or all of your collection, please contact me in strictest confidence.

Contact us