Selling Match Tickets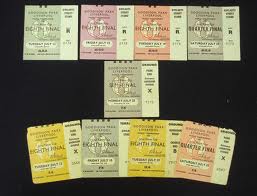 Used or unused Football match tickets have a smaller market place than Programmes but are never the less collectable.
Again, generally speaking, the older the better if you are looking to sell.
Condition matters just as much as in other memorabilia so please allow for any defects such as worn perforations, dog eared, folds, rounded corners etc.
Most collectors have a certain preference, Home Club, Cup Finals, Internationals, FA Cup Ties, Non League etc.
When it comes to selling remember I offer a free valuation service.

Contact us