Selling Badges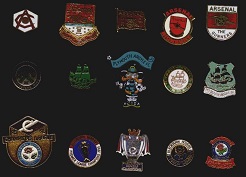 What was once seen as a childs hobby, as in recent years grown within the football memorabilia collecting community.
Badges from recent years do not have any real value, although from the 1970s going backwards can achieve a reasonable price.
Very few individual badges sell for a high value, however in bulk, as a collection can achieve a fair sale price.
Different fields of collecting include Stewards badges, Supporters Clubs, Cup Finals, one per Club, European matches etc.
Please contact me for free advice.

Contact us