Selling Football Programmes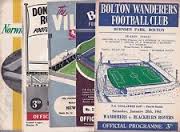 Like most collectables, programmes often have a value depending on age, as a general rule, the older the better although condition is of the utmost importance when it comes to selling.
Allowing that we are talking about paper collectables for sale you must take into account tears, folds, writing, paper loss, staple rust etc.
Also take into account that post 1950 to around the mid 60s, attendances were often 20% plus up on today's figures, given that terracing was in place of today's all seater stadiums and almost zero tv coverage. Therefor print runs were far greater than today.
Programmes from the mid 1960s onwards may seem like a lifetime away, but they are in fact fairly common and when it comes to selling only a few will have any real value.
Most collectors buy and sell programmes in one or two fields i.e, Internationals, their favorite Club, European matches, Friendlies or Cup Finals.
If you are thinking to contact me looking to sell, remember you have nothing to lose. I am always happy to give a true market value estimate, free of charge on anything from 1 or 2 items to a life time collection.

Contact us