Selling Autographs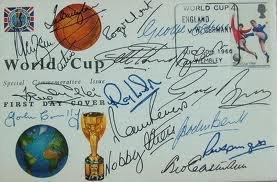 Autographs have always been a very affordable form of collecting.
We can all remember as a child waiting outside the gates after a match or at the training ground for players to sign a photo or scrap of paper.
In the last 25 years footballers have become harder to engage with, either because of security measures or they just don't have the time. This as seen the price of autographs gradually increase over the years and what was once a childhood hobby is now a thriving market to both buy and sell.
Unfortunately higher autograph values have attracted many forged signatures to the market place with unscrupulous  individuals looking to fleece the unsuspecting victim, there as been a number of cases recently taken to court. If you are considering to sell remember providence is important.
As with all collectables unfortunately, deceased players signed items tend to command the highest prices.
Please contact me for a free valuation.

Contact us